In April 2015, my wife Theresa was bit by a tick while raking the grass in our backyard in SE Calgary. She contracted Lyme Disease, and our family began a journey through the abyss. On her worse day, Theresa could not walk or stand up. She could not feel her arms and legs. She had double vision, and could not read or watch TV. She was immobile and could barely be moved in a wheelchair. She lost her ability to speak without a stutter.

We struggled with doctors to find a diagnosis, until (through great fortune) we crossed paths with Dr Ralph Hawkins.

During the diagnosis process, we received tremendous support from friends, family, and even complete strangers. For that support, our family will be eternally grateful.


Following Theresa's diagnosis, I wrote a blog post titled "
Lyme Disease: Our Fight to Pay it Forward
" to raise awareness of the challenges Lyme patients face in getting a diagnosis in Canada. The post went viral. To date, more than 250,000 people have read the post. Many have shared their stories in the comments, and many more have sought (and received) help by relating to Theresa's story. Over 1000 people a month continue to visit that post for ongoing support and reference. That (to me) is an indicator that our system is still broken. Lyme patients are still desperate for a voice. Still looking for answers.
The purpose of the blog was to raise awareness of our flawed system, and to make my voice loud in requesting the Alberta Health Minister to meet Theresa's doctor. I wanted our new Health Minister to not only understand the flaw in our system, but to understand the opportunity that small changes could make to vastly improve our diagnosis process.
I'm humbled to say that over 500 people wrote to the Health Minister on our behalf. I can tell you that with your support, the Alberta Health Minister has committed (in writing) that she will in fact meet with Dr Hawkins.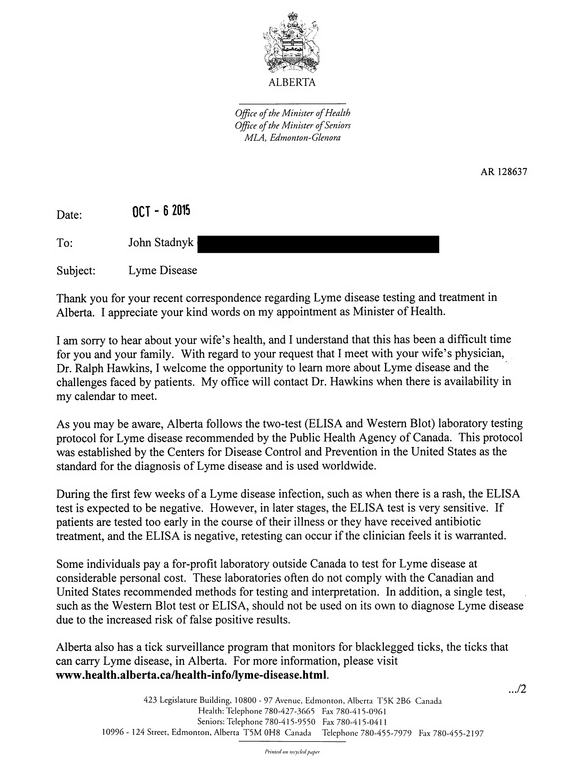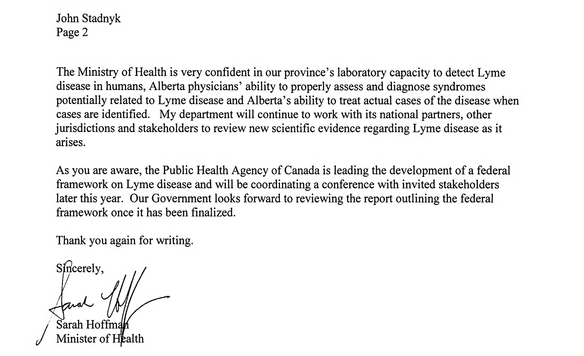 So how is Theresa doing?

Theresa is recovering remarkably under the care of Dr Hawkins. Her regime of medications has come down considerably since last fall, but she will remain committed to "the program" through the spring of this year. We both feel she is now at a point in her treatment where SHE has more control over her outcome than the medication she is taking. Theresa has recently started reintroducing regular exercise and clean eating to her daily routine. The better she eats the better she feels. It's a welcome site to see a mess of "Beachbody" videos on our basement floor. She struggles with fatigue, and that's likely a combination of Lyme and the fact that she has been physically incapable of a fitness routine for over 10 months.

Lyme recovery requires a careful balance of caring support and tough-love. I've learned that if you can't (or aren't good at being) both, you need to make sure there is access to both. Recovery can be a long process. It's a marathon, not a sprint. Know when to ask for help, and be prepared to accept a generosity of support that you will never be able to repay. To those that were there for us in the tough times…we will never forget.

As "tick season" approaches, you can be sure that we'll be more diligent about checking the kids (and ourselves) after spending time outdoors. This process has been a challenge, but also a strong reminder of how fragile life can be. Don't take your health for granted – it's a precious gift. So make the most of it. Go outside, and enjoy the weather. But don't forget to "check for ticks'.

Written by John Stadnyk

@JohnStadnyk